Different RV Types
When choosing an RV it might be daunting to realise that there are many different types, variations and sizes of RV. In this blog post, we will describe the 6 most popular types of motorhome which we hope makes your purchasing decision that little bit easier! Don't forget Texas RV Guys are here to serve your RV needs, so feel free to reach out to us at www.texasrvguys.com and we'd be happy to help!
Let's get started with Class A motorhomes…
Class A Motorhomes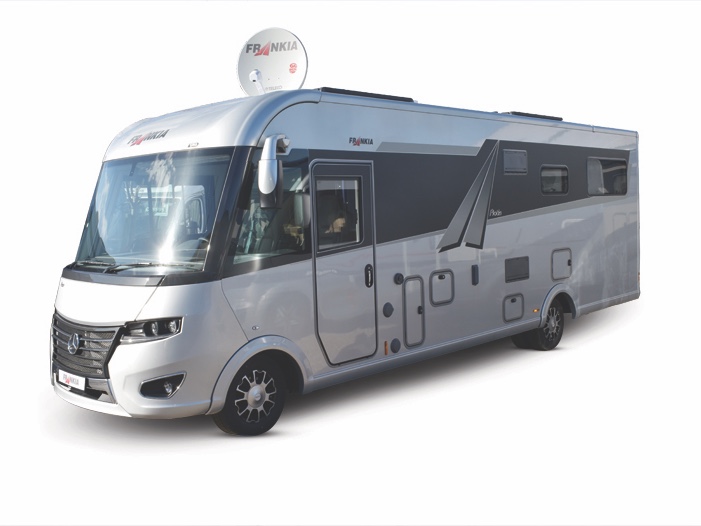 These motorhomes are the largest of all categories and they're also the most spacious. Some class A motorhomes can be as long as 45+ feet with the shortest coming in at around 25 feet. But, even in the smallest of class A motorhomes the size is going to be an improvement over one of the smaller types of motorhome available at the market today.
Class A motorhomes tend to be used more by large families or large groups of people travelling together. This is due to class A motorhomes having full-sized bedrooms, kitchens and bathrooms. Some class A motorhome bedrooms come with two king-size beds and perhaps bunk beds for kids. Along with full-sized bedrooms, Class A motorhomes can also have full-sized kitchens with an oven, freezer, refrigerator, stovetop and microwave and full-sized bathrooms which are spacious and come with a sink, shower/bath and toilet.
Furthermore, class A motorhomes are fully equipped with many areas for storing clothes, equipment, food and other essentials. Some storage spaces will be obvious whilst others are hidden or retractable. This will make more storage space without affecting the aesthetics of your RV. This style of RV really is a home away from home!
It's also worth bearing in mind that these motorhomes are more difficult to drive than an automobile and it takes some time to adapt to driving to accommodate for the extra length, weight and general heft of a motorhome.
Class A motorhomes also have larger windows (and more of them!) which make for some fantastic panoramic views when you're out exploring the great wilderness! It goes without saying that this type of RV comes with a higher price tag.
Class B Motorhomes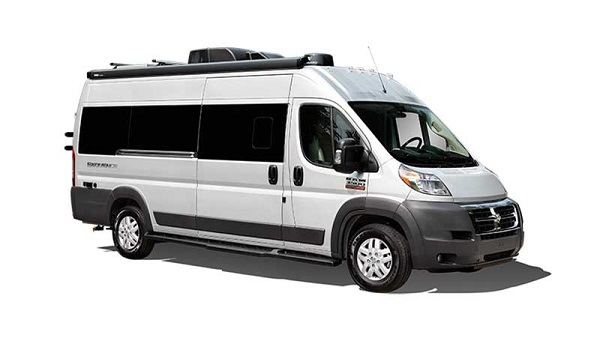 Class B motorhomes are the most lightweight of the main three classes and are similar in size to a large trailer. If you're only travelling with one or two passengers then there should be no issues with the space available in a Class B motorhome. However, if you're looking to travel with more people we suggest looking at a class A or even a class C motorhome.
In some Class B motorhomes, you may get a single queen or king-size bed and perhaps a pull-out couch or an additional single bed. There's no room for bunk beds and the majority of Class B floor plans will have less storage space and fewer windows. The kitchen will be smaller and you may have to forego a shower or a toilet with some floor plans.
As you can imagine with fewer (and smaller) windows you shouldn't expect too much in terms of views and you will also have to pack lighter and use space creatively. That being said, Class B is the cheapest option of the three classes and is still an excellent option for RV-ing!
Class C Motorhomes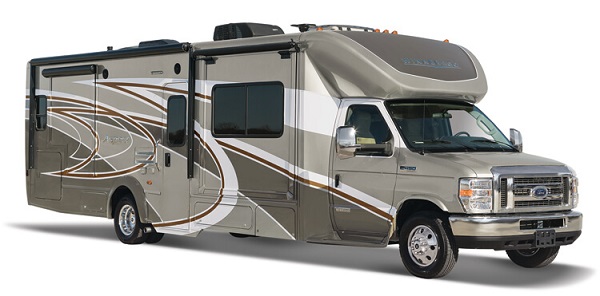 We like to think of class C motorhomes as the mid-range option. It will be bigger than a class B but not as big as a class A and you should be able to pick one up for around the $100,000 mark.
There's not so much floor space in a Class C floorplan so you may have an overhead bed and maybe a second bed in the bedroom nook.  If there's only two of you travelling, we recommend converting the overhead bed into an office or additional living area; this is an especially good idea if your class B motorhome feels a bit cramped.
Class C motorhomes are usually around 25 feet in length and there's fairly decent storage space, especially if you change the overhead bed space as we've just mentioned. Normally there will be a couple of good-sized windows but they won't be as big as the windows found on Class A motorhomes.
The kitchen and bathroom will also be smaller than Class A, but not as much so as Class B.  You may have to forgo some kitchen amenities which you would otherwise have in a Class A motorhome.
Fifth-Wheel Travel Trailers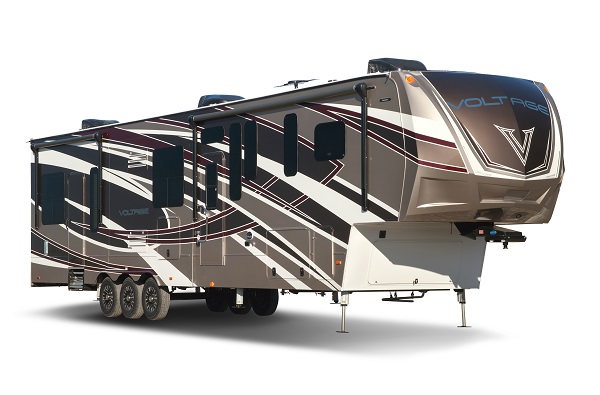 Fifth Wheel trailers are the biggest trailers of all. Some are comparable in size to larger motorhomes such as a class A. The floor plans can consist of several levels and can measure as long as 40 feet. They're also the most expensive type of trailer available on the market today.
You can comfortably fit 6+ passengers in this type of trailer. Fifth-wheel trailers are attached to a pickup truck by a specialized fifth wheel hitch. It's worth remembering that some smaller and less powerful vehicles will struggle to pull the weight of a fifth-wheel trailer. Fortunately, there are options for lighter fifth-wheel trailers which would be compatible with these less powerful vehicles.
Some fifth wheel trailers will have a slide-out, sometimes as many as 4 which can provide more space internally and add an extra living area or bedroom. In some cases, they can expand more than 3 feet.
Another benefit of this type of trailer is the cooking amenities available such as a stovetop and even a mini oven. They will have larger dining areas and you should expect a toilet and shower in your fifth wheel and also room for several beds.
Tent trailers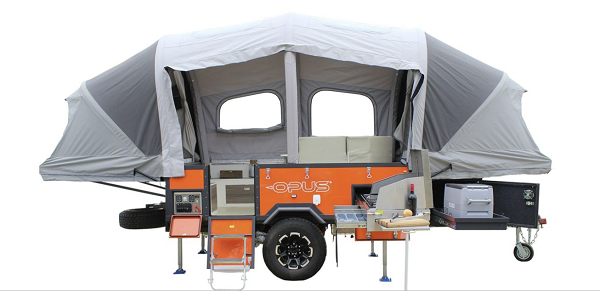 Occasionally referred to as 'pop-up trailers' this is a small type of travel trailer. Instead of driving the tent trailer itself you hitch it to a vehicle and pull it with you. These trailers are often small but will include kitchen space with a diner as well as a bed. Clearly, some things will be sacrificed such as a shower and toilet but you can usually cook inside the trailer and you should also be able to fit a small refrigerator.
If you are the type of camper who enjoys boondocking and being in the great outdoors then a tent trailer is perfect for you!
Hard-side travel trailers
If you prefer something sturdier than a tent trailer, then the next step up is a hard-sided travel trailer. You get all the space (and a bit more) that you would from a tent trailer with the security of hard sides. This means you can enjoy longer trips and more security, even in bad weather.
These trailers, similar to the other trailers mentioned above, connect to a truck/SUV or equivalent vehicle via a hitch. Hard-sided trailers are unique because they are often pointed at the top just like a triangle. It may look a little funny from the outside once inside you'll certainly appreciate this style of trailer!
The angular design allows for more windows inside and you can have many modern amenities such as a kitchen and a dinette. There's room for beds and also you may get more bathing options with a hard-sided travel trailer than you would with the tent trailer. There's adequate space for either a toilet or shower, but rarely both.
We hope you've found this article informative and you've now got a better idea of the style of RV that will be most suitable for your needs. If you're still unsure, feel free to call us on (817) 439-4161.
If you're in the Dallas Fort Worth area and you're interested in purchasing an RV then contact us today and we will be happy to help you! Alternatively, if you have an RV that needs servicing or repairs click here and complete a short form and we'll be in touch.