Purchasing an RV is a major investment, similar to when you buy a home or motor vehicle. To protect your investment, and get many years of reliable service and use from your RV there are certain measures you will need to take. Most of these tasks can be performed by RV owners with little to no mechanical knowledge however, we strongly recommend using a professional RV mechanic if you're unsure.
Performing preventive maintenance checks prevent or identify potential problems that may lead to mechanical malfunctions or component/system failures. But how often should I do basic maintenance on my RV? This is a great question and one that's answer will depend on a few things.
One of the most important elements to consider is the age of your RV. If your RV is new, it may still be under warranty and you should probably only consider performing light, basic maintenance on it versus more heavy and regular maintenance that may be needed with older models of RV.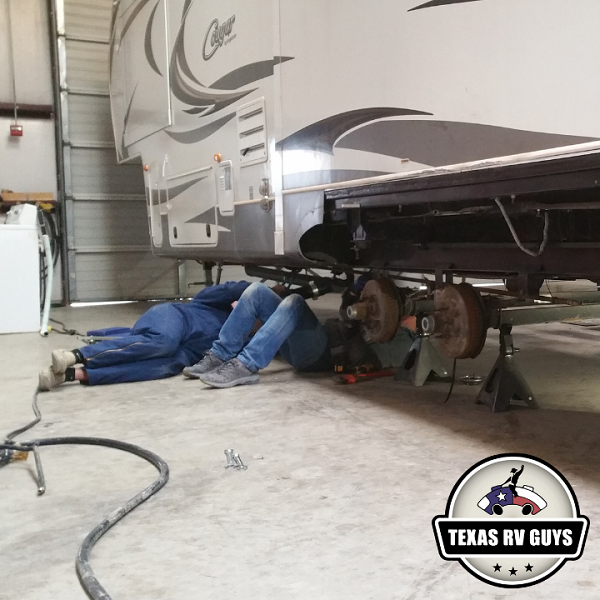 If your RV is in this category then you should be doing routine maintenance on it such as changing the oil, checking the tire pressures, checking your roof for leaks, electrical components etc. If your RV is very old then you may want to consider hiring a professional to carry out the inspection and service for you.  It's well worth researching specific information on the proper care and maintenance of your RV's interior, exterior, appliances, roof, electrical systems, generators, batteries, chassis and tires.
Please refer to your owner's manual if you are unsure or you can always contact us and we'd be happy to help! A little light maintenance on your RV at home can save you time, money and future headaches.
Tony M. from DFW says, "Unfortunately I had to learn the hard way. I had to have emergency repairs carried out when I least expected them (we were travelling at the time) due to a system failure which ended up costing me a lot of money. I know now that situation could have been prevented if I'd performed scheduled and preventive maintenance."
If you've owned your RV from new and it's getting on in years, then (to an extent) it depends on how well you know your RV. Each RV manufacturer, model and year have their strengths and weaknesses. You should already know which parts are changed most frequently and which parts rarely need replacing for your particular make and model of RV. Also, find out if there are any expensive parts that you may need to replace in the future as the cost for parts varies depending on the age, model and make of your RV. If you don't know this information then a quick Google search will provide you with the answers.
You can check the oil in your engine regularly to make sure it is not leaking. If it is, then you should take it to an RV mechanic right away. You can prevent a lot of costly problems by changing your oil often. Find a trustworthy RV dealership to do the oil change and make sure they use the proper quality and viscosity of the oil!
You should also check the condition of your spark plugs. If they are cracked or worn, then they will not fire as they should. This will prevent your engine from working properly and could potentially cause an accident or cause the engine to fail, especially in colder climates. Sometimes it is necessary to replace them with new ones. You should always have a spares box in your vehicle and replace spark plugs regularly to prevent any unexpected breakdowns.
Another area to consider is your RV's breaks. It's imperative that you always have enough brake fluid, that your brake pads and not worn and that they are bringing your RV to a complete halt without locking or pulling to one side. There are specialty tools you can buy for this purpose but things like brake fluid can always be found at your local RV dealership, just make sure it's the best quality and the correct type of brake fluid for your particular model of RV.
This brings us on nicely to our next maintenance topic, tire pressure. This is a really important factor when ensuring safety and compliance with the manufacturer's guidelines. Please don't forget that when your RV is fully loaded, it weighs a lot more and you should adjust the pressure of your tires accordingly. Refer to your owner's manual for the recommended pressures for various weights.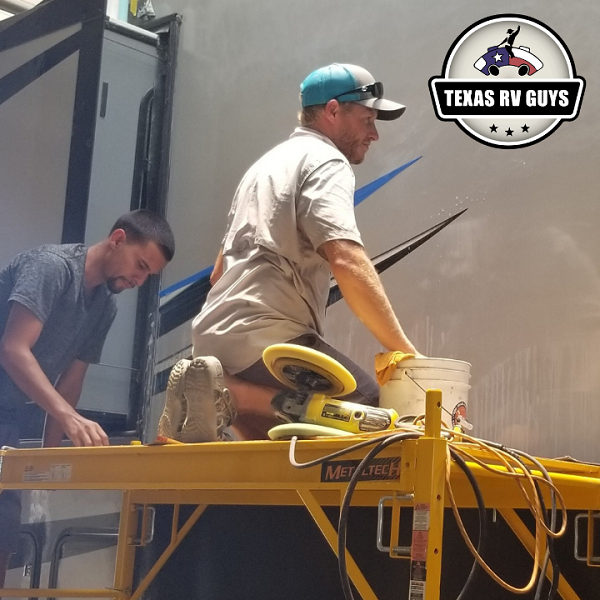 We should emphasize that this is an ongoing process and you should keep a regular schedule with your maintenance to ensure the best performance from your RV. Always remember the most important thing when attempting any maintenance yourself is your health and safety. If you're in any kind of doubt, please don't guess as you may end up doing more harm than good to your beloved RV.
Texas RV Guys will be happy to help you with any questions you may have about your RV and are always the best source of advice for anyone unsure of how to perform basic RV maintenance.
Texas RV Guys are based in the DFW area and carry a huge inventory of new and pre-owned RV's. We also offer full service and repairs for all makes and models of RV and pay the best rates for your RV when you trade-in or sell on consignment.
We pride ourselves on our customer service; your satisfaction is our number one priority and we'd be honored to perform your RV's next service.
You can call us directly on (817) 439-4161 or you can send us a message via our website. If you're in the market for a new RV then view our latest inventory of new and used RV's we have for sale.